Using iPhone: File and iTunes Sync Via USB, Wireless, and Over the Air
July 22nd, 2007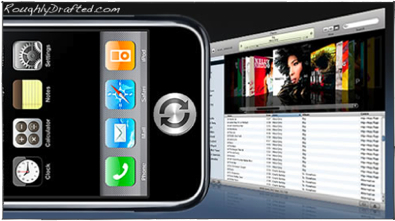 Daniel Eran Dilger
One of the most important features in making a mobile useful is its ability to sync with outside data. Here's what the iPhone can and can't do relative to:
• syncing via USB with a desktop computer.
• syncing wirelessly over WiFi or Bluetooth to a desktop or other device.
• syncing over the air directly with Internet servers.
Each type of sync mechanism involves different types of content: data, documents, and media files. The iPhone's features are promised to improve via software updates, but this article focuses on the iPhone's existing sync features, and provides comparisons to how other mobile devices work.

Desktop Dock Sync Over USB
Mobile users frequently report having a difficult experience in syncing their data, photos and media files. Some phones have no ability to sync over USB, and choose instead to provide wireless syncing with a desktop computer using Bluetooth, or over the service provider's data network to its own servers.
For iPod users, the iPhone presents a very familiar experience. It syncs more data than most phones do, but still uses an interface that is easy for non-technical users. All of its syncing is set up entirely within iTunes, on both the Mac and Windows PCs. At first sync, it offers to set up three categories of syncing:
Data Sync
• extracts desktop email settings and sets up email account information on the phone.
• imports and syncs contacts from Address Book, Outlook, or Yahoo.
• syncs calendars with iCal or Outlook.
Document Sync
• imports and syncs desktop web browser bookmarks from Safari or Internet Explorer.
• syncs photo albums with iPhoto or a PC folder.
Media Sync
• syncs to a iTunes music library or to specific song playlists.
• syncs a iTunes TV and movie library by specific episodes and films.
• syncs specific podcasts, and rotates in new content as it is consumed.
iPhone Data Syncing
Many mobile phones only sync contact data and sometimes photos or songs over Bluetooth, although some can be synced over the much faster USB. Apart from dedicated business users, many consumers don't ever sync their phones simply because it's often so difficult to set up. Apple worked to simplify phone and Palm sync on the Mac with iSync and later Tiger's Sync Services, but each phone model still supports a different set of sync features.
email: While all smartphones can be configured to receive mail, they commonly don't sync with a desktop so initial setup has to be entered manually. Rather than offering pages of documentation to help users find their account information in the mail program they use and manually type it into the iPhone, iTunes handles it itself.
One issue I had on my Palm Treo was that replies to emails weren't displayed in sync, so I couldn't tell from the mobile if I'd already replied to an email from another computer. On the iPhone, when you reply to an email, it is properly marked with a reply icon everywhere you check that same IMAP email account.

contacts: The most obvious thing to sync between a phone and a computer is a list of phone numbers. The iPhone's integration with Address Book means that contacts organized into groups on the desktop will be organized on the phone, too. It also imports contact photos from the desktop, and syncs photos assigned on the phone back to the desktop, a simple feat few mobiles can manage. Palm sync certainly couldn't.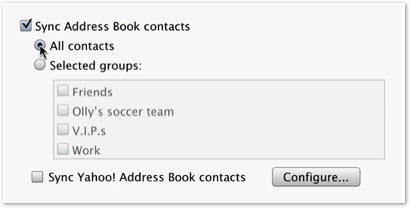 calendars and to-do tasks: The iPhone syncs with a desktop calendar, but its calendar support appears to be a simple placeholder waiting for the delivery of Mac OS X Leopard; it doesn't even support to-do event lists yet. It offers serviceable calendar integration for consumers, but lacks group scheduling features.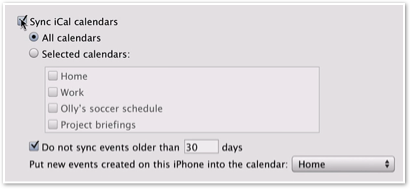 [Using iPhone: Notes, ToDos, Attached Files, and Mac OS X Leopard]
[Using iPhone: iCal, CalDAV Calendar Servers, and Mac OS X Leopard]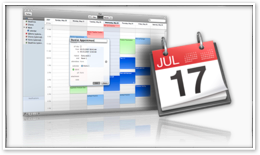 iPhone Document Syncing
Smartphones aimed at the business world devote much of their hardware capacity to reading and editing Office documents.
The main feature unique to Windows Mobile products are the "pocket" versions of Office products that pretend to allow the user to interact with Word and Excel documents within a tiny screen.
Palm long bragged that its support of Office documents was superior to Microsoft's own, thanks to support from DataVis' Documents to Go, and the Palm's larger screen.
On both platforms, document viewing and editing functions consume a lot of the mobile devices' resources, but they provide little real functionality because the devices lack enough screen real estate to even view documents.
Actually getting files on a Palm or Windows Mobile device–and keeping them in sync–involves additional layers of file management software.
The iPhone takes a different approach: it doesn't try to emulate the features of a full PC, but rather intends to make users' data mobile. It offers no way to edit desktop documents, just as the iPod lacked any way to record audio. The iPhone is a voice and messaging device, and does not pretend to be a scaled down laptop.
documents: The iPhone presents files only in the context of mail attachments. That means the iPhone needs no file manager, nor any desktop file sync tool. Instead, users can simply copy the files they need on the go into email drafts as an attachment.
This makes it simple to get files on the iPhone, because no PC set up with special file sync software is required. Users can mail themselves a document or have a colleague mail them. Currently, the iPhone can view attached PDF, text, GIF, PNG, and JPEG graphics, Word Docs and Excel files.
It appears the iPhone's document reader support is based upon Leopard's Quick Look feature. That suggests that once Leopard arrives, the iPhone will gain the support of more file types using Quick Look plugins.
As third parties add Quick Look support for viewing their custom file types within Leopard's Finder and in Time Machine, that support should also be portable to the iPhone as another example of how the Mac and the iPhone cross pollinate with each other.
[Mac OS X Leopard: Quick Look – Apple]
[Leopard, Vista and the iPhone OS X Architecture]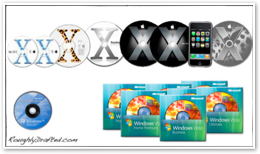 web downloads: The same file types supported as email attachments can also be downloaded via the web.
In both cases, the iPhone supports standard Word docs, including Word 2007 .docx files. Oddly, it lacks support for standard .rtf or rich text files, which the iPhone's Safari refuses to even download. RTF is the default format of Apple's own TextEdit.
Safari will download OpenOffice OpenDocument .odf files, but presents them as plain, unusable text files. The iPhone will not download any zip file archives, any applications or plugins, or any other types of files it does not recognize. It will play standard audio and video media files from the web, as noted below.
bookmarks: Like contacts from Address Book, the iPhone imports Safari's bookmarks as they are organized on the desktop side. That makes it easy to keep lots of bookmarks handy and still be able to find them. The iPhone also suggests bookmarks in a list as a URL is typed in the browser, making it very easy to call up known sites.


photos: Nearly all phones now have a camera, and many can record video. The photos and videos they take are usually of dubious quality, although some high end phones in the $900 price range have an integrated camera that can rival very good standalone digital cameras.
The iPhone doesn't support video capture yet, and its camera lacks fancier features such as a zoom lens and flash. I'll present more on the iPhone's camera later. In terms of photo sync and its photo library however, the iPhone is unique in that it can hold thousands of desktop photos, and presents them in a beautiful hands-on interface with intuitive, finger controlled zoom and pan exploration.
The iPhone's own photos sync painlessly with iPhoto. This is a nice advantage over Palm devices, which only stuff photos into a deeply buried folder as an exercise in frustration for the user. Palm made even simple tasks such as deleting photos a bit of a pain.
Many other mobile devices won't sync photos without third party software, or can't sync at all in the case of phones designed to enrich service providers by only sending pictures as MMS messages.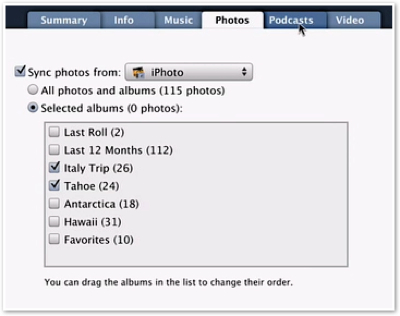 iPhone Media Syncing
The fact that most modern phones can play music is deflated by the simple fact that few people actually use their phones to listen to music. Few phones are designed play back an actual movie, as the iPhone can.
The underlying problems in both cases is that most phones have:
• poor media sync software.
• limited memory for storing anything.
• clumsy interfaces that make use as a MP3 player awkward.
It doesn't help that mobile service providers often try to prevent any desktop media syncing in order to force users to buy downloads over the air, and encrust their devices with levels of DRM that obliterate practical use.
media files: In contrast, the iPhone works like a video enabled iPod, and offers the same slick integration with both purchased songs, TV shows, and movies as well as the user's own ripped CDs, H.264 ripped home movies and DVDs, and free audio and video podcasts managed in iTunes.

web media: In addition to media synced from iTunes, the iPhone will also play media files directly in web pages or RSS feeds, and play them over the network. It plays the same formats of audio and video as the iPod:
• AAC / M4P audio.
• MP3 audio.
• WAV and AIFF raw audio.
• H.264 or MPEG-4 video in iPod friendly formats.
It can not play:
• RTP/RTSP streaming QuickTime video.
• QuickTime VR immersive or object movies.
• Windows Media, DivX/H.263, Flash video, or other web codecs, even if they are supported in QuickTime.
I hope Apple investigates supporting QuickTime VR on the iPhone, as the phone's form factor seems well suited to exploring models and surround videos. When QTVR appeared, there was little commercial demand for it. With ubiquitous networking and a touch driven, handheld interface, QTVR could take off on the iPhone.
[Inside the iPhone: Wireless and Sync vs. Palm, WinCE]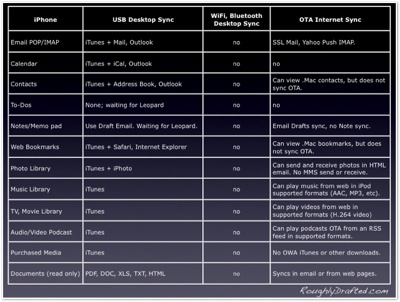 Wireless Desktop Sync.
While the iPhone provides simple and painless sync features via its USB connected dock, wireless desktop sync isn't supported on the iPhone at all, at least not in its first software release.
It makes less sense to sync the iPhone wirelessly compared to using the USB dock. This is partly due to practicality, as the iPhone needs to be recharged daily, and most people don't need to sync with the desktop more often than that. USB is also much faster than syncing over WiFi and far faster than Bluetooth.
• USB has a theoretical speed of 480 Mbit/sec and a typical throughput close to 250 Mbit/sec.
• WiFi 802.11g has a theoretical speed of 54 Mbit/sec and a typical throughput close to 20 Mbit/sec.
• Bluetooth 2.0 EDR has a theoretical speed of 3 Mbit/sec and a typical throughput close to 2 Mbit/sec.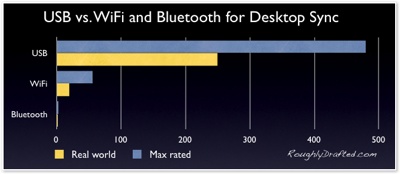 It is likely that the iPhone will gain support for Bluetooth syncing in certain areas. The following article on Bluetooth will detail this further. Currently, the iPhone's Bluetooth support is very minimal, and only supports the use of phone headsets, although readers have verified that the iPhone can pair with a BMW's car integration kit.
Syncing over WiFi may make some sense, but why perform a desktop sync wirelessly with a copy of iTunes on a specific desktop computer, when the iPhone can just as well sync directly over the air with Internet servers? In other words, why build a WiFi replacement for the Dock to allow wireless syncing at home, when you could instead use WiFi or EDGE to sync select items directly with .Mac or other Internet servers from any location?
Local Wireless vs Over the Air.
Rather than confusing together 'desktop wireless sync' and 'syncing over the air with a server,' I refer to over the air exclusively as being wireless communications with a server, such as an email or calendaring server or an online service such as Google, .Mac, or a private company servers. That distinction is not commonly made.
Over the Air Syncing vs Other Devices.
Currently, the iPhone's over the air syncing and data access is limited to email and web access. It lacks three primary OTA mobile features found in other devices. The first is significant but only a temporary situation, while the other two are really more of a feature for service providers than for users.
OTA Data: Calendaring and Proprietary Push Email.
Most modern Palm OS, Symbian, Blackberry, and Windows Mobile devices provide support for connecting to RIM's BEA, Motorola's Good, or Microsoft's Direct Push, allowing business users to get immediate updates of their corporate calendar and email over their mobile data connection.
The iPhone currently only supports Yahoo's Push IMAP mail and contacts. Steve Jobs announced Apple would soon deliver iPhone messaging integration involving some familiar names, without being specific.
It is likely that Apple will introduce support for syncing OTA with Yahoo and Google Calendars, and its own .Mac and CalDAV-based iCal Server in Leopard.
[Using Apple's iPhone in the Enterprise]
[ZDNet's Mary Jo Foley Says Apple's iPhone Needs ActiveSync]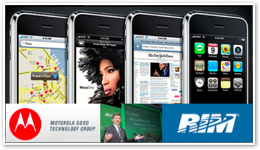 OTA Documents: Mobile Photo Sharing with MMS.
Most camera phones share photos using MMS, an extension of SMS messaging that supports sending graphics, photos, and audio clips. Apple didn't provide any support for MMS on the iPhone, choosing instead to use standard email for sending photos taken with the iPhone's camera.
Some mobiles that can handle MMS can't support emails with graphics, so they won't be able to get iPhone photo emails. However, emails are also free while many service plans–particularly in the US–charge per item for SMS and MMS delivery.
Apple was not stymied by the foreboding complexity of implementing MMS on the iPhone. It left off support purposefully. The company participates with the 3GPP group handling mobile technology standards, and was among the first to add support for the 3GP multimedia data container format to QuickTime.
Apple chose to direct photos to email for the same reason Notes can be sent to Mail but not to SMS: email is open, free, and easy to receive on a computer. Apple sells computers, not mobile minutes and texts.
The iPhone has no support for Bluetooth OBEX file exchange, and no mechanism for sending files outside of email. However, sending photos as email attachments is both intuitive and practical, and is a better solution than setting up a custom file manager and a file server. Sticking photos in an email simply makes more sense.
iPhone Photo Emails.
The only limitation in emailing photos is that, when mailed from the iPhone, they are automatically compressed and shrunk. A photo taken on the iPhone and retrieved via a sync with iPhoto has the 2 megapixel camera's native 1600 x 1200 resolution. The photo I took below happened to be around 810 k.
Sent from the iPhone via email, the same photo is reduced to 640 x 480 and was further compressed to about 140 k. Emailing photos also removes the minimal EXIF data attached, including the time and date of capture and the fact that it was taken with an iPhone. Only one photo can be attached to an individual outgoing email.
The actual quality loss of the emailed photo is minimal for the purposes of a typical user, however, and was far higher quality than that of a typical camera phone with a 1.3 megapixel camera.
Below, the difference between the two images (the same iPhone photo, from sync on the left and via email on the right) is hard to notice when scaled down a size for publishing on the web. (Click to enlarge).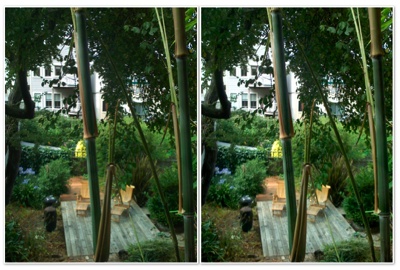 In the second row, the differences are exaggerated. On the lower left is the photo its actual, unscaled resolution; on the lower right is the emailed version zoomed in and blown up to highlight the compression artifacts.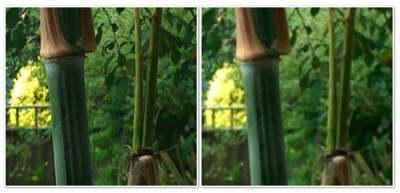 I'll post more comparisons with other cameras and camera phones in an upcoming article.
OTA Media: Music and Video Downloads and Purchases.
While the iPhone can play audio and videos embedded in web pages or an RSS feed–and has an optimized client for watching free YouTube videos–it can't buy songs or videos over the air or download any media files to its library for later playback.
OTA music stores are big in Japan and other markets, and are now being hawked by US service providers as a way to make extra mobile revenue. Among them are Verizon Wireless' overpriced and underwhelming V Cast. AT&T has its own toy video download store, but the iPhone conspicuously does not support it.
[Readers Write: the iPhone in Asia, iTunes OTA, and a CueCat?]
There are two main issues involved in why the iPhone shrugs off such services or an OTA version of iTunes:
DRM Complication: In relation to the iPod, I pointed out earlier how iTunes' minimal DRM system purposely avoids any subscriber or media rental mechanism. Unlike Microsoft's abandoned PlaysForSure devices and the Zune, there is no way for Apple to delete or expire a user's music when they stop paying monthly fees.
Verizon's mobile V Cast is also based on Microsoft's DRM; it rents out toy mobile games, video clips, songs, and ringtones. Users can also buy items, all of which are downloaded directly from Verizon over its network.
Like the iPod, the iPhone delegates its media management to iTunes, making the device itself simpler. For the iPhone to add the ability to download purchased music and media files into its internal music library, Apple would need to redesign its device to manage an internal library and police its own DRM.
Rather than being a pod, the iPhone would then become a full fledged iTunes. That would also factor into music contracts Apple signs with labels, making the iPhone count against the limited number of computers that can play purchased music, rather than being one of the unlimited number of iPod devices that only mirrors one of those iTunes libraries.
[Inside the iPhone: FairPlay DRM and the iTunes Store]
[How FairPlay Works: Apple's iTunes DRM Dilemma]
The Featureless Feature: In addition to having to adopt a less flexible, more Microsoft Janus-style version of DRM similar to PlaysForSure or V Cast, it's hard to see what the upside would be to offering OTA downloads. Why manage music from the iPhone when its much easier to select tracks, movies, and podcasts from the desktop, and sync selected items to the iPhone?
Most mobile phones only have 64 – 128 MB of Flash RAM storage, while the iPhone has 4096 or 8192 MB of Flash: 32 to 128 times as much. With all that storage, iPhone users can carry a library of their own CDs and movies around.
Other mobile users pay a steep premium to download songs mainly because it is such a pain to get their own music on their mobile, not because it is convenient or useful to buy music from a mobile phone.
[iPhone OS X Architecture: the Mach Kernel and RAM]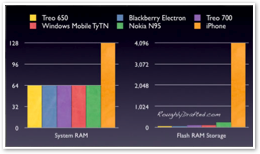 While Apple may at some point add iTunes downloads to the iPhone, it isn't a critical feature or even a very sensible plan. After all, since the average iPod only has 20-25 purchased tracks on it, it makes little sense for Apple to rush to put the iTunes music store on the iPhone. Will iTunes sales jump if the iPhone gets a more difficult to navigate mobile interface that is slower, more complex, and more restrictive?
[Forrester Research: Epic Terror of iTunes and Apple TV]
At the same time, Apple did patent ideas related to OTA downloads, albeit written in a way that says little:
[Apple Files Patent Relating to iPhone/iTMS Transactions – MacNN]
What do you think? I really like to hear from readers. Comment in the Forum or email me with your ideas.
Like reading RoughlyDrafted? Share articles with your friends, link from your blog, and subscribe to my podcast! Submit to Reddit or Slashdot, or consider making a small donation supporting this site. Thanks!