Readers Write: the iPhone in Asia, iTunes OTA, and a CueCat?
July 8th, 2007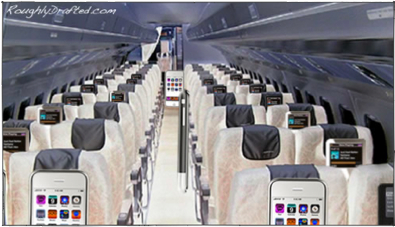 Daniel Eran Dilger
Continuing on reader comments from on the article "International iPhone: Europe, Japan and 3G UMTS" are notes about Asian markets, iTunes sales over the air, and Japan's CueCat-like barcodes.

[International iPhone: Europe, Japan and 3G UMTS]
[Readers Write: iPhone Unlocking, T-Mobile, Europe and UMTS]
[Readers Write: the iPhone in Japan, Australia, and Universal 3G]
No GSM Soup for Japan.
I had earlier indicated that the existing iPhone wouldn't work in Japan because the country doesn't have GSM service. A reader report stated that Vodafone Japan uses GSM, and indeed Vodafone in Europe is a GSM provider. In Asia however, Vodafone–recently sold off and renamed Softbank–does not run a GSM network.
Keller reports, "One note on Softbank—even they don't use a GSM network like one of your readers said. They just have phones with tri-band GSM+2100MHz UMTS which is why his Softbank mobile worked on a GSM network.
"Likewise the 905 series of NTT DoCoMo mobiles out this fall will be adding GSM for overseas roaming. I'm afraid you remain stuck with either UMTS or CDMA2000 for Japan itself, and South Korea, who lack GSM as well."
Vodafone / Softbank and the iPhone.
Japanese papers are reporting a deal between Softbank and the iPhone. In addition, crackers looking at files in the iPhone's boot image have found graphic files representing different carriers. Among them are AT&T, Cingular, T-Mobile and Vodafone.
Cingular just changed its name to AT&T in June, while Vodafone in Japan changed its name to Softbank last October. Why did Apple have the iPhone all ready to display "Vodafone"? Was it to accommodate negotiations made in Europe or Japan, or just because there was room for some extra graphic files?
iPhone and the iTunes Store.
Keller observed, "Softbank does remain the likeliest carrier for the iPhone given that they're the smallest and hungriest of the operators with the closest plans to what Apple wants, plus there's stuff like Yahoo Japan (partnered with Softbank) now directing you to iTunes for music.
"The only real condition I could see Softbank holding out for—besides stuff like QR code and e-cash and the like which are required—is an Over-The-Air iTunes Store for all their mobiles and them getting a cut.
"Either way iPhone needs an OTA music store in Japan. Side-loading does not cut it as many mobile customers lack computers, and the number of people using the internet on mobiles passed usage on computers a few months ago.
[Softbank, Apple to join cell phones with iPods – The Japan Times Online]
Softbank vs. NTT DoCoMo and the Japanese Subsidy Shell Game.
"NTT DoCoMo, the other option, would likely be unwilling to give into Apple demands about data pricing–though, suspiciously, in an article a little while back in Australian IT they talking about both a flat rate data plan and their interest in the iPhone–and would want their imode gateway and their own OTA music store hooked to the iPhone.
"That said one thing NTT prizes above all right now is a way out of their multi-billion (6+) dollar subsidy problem. Announcing the iPhone at it's unsubsidized price and at the same time taking their other phones to their real price—with some kind of 24 month pay-to-own plan I imagine—would be the best blunt object I can think of to get of the subsidy game and survive Au/KDDI and Softbank still being in subsidy land.
"Once NTT survives the move and becomes around quite a few billion dollars a year more profitable Au/KDDI and Softbank must also follow suite to please their shareholders.
"It's like a giant game of chicken where the first one who makes a move loses a million customers, and the iPhone may be the only way to act first and keep customers—or gain enough other customers—to survive. In that context NTT DoCoMo would be competitive with Softbank in how much they're willing to give Apple, though again the one sticking condition would OTA music stores.
"NTT would likely be willing to go to iTunes for their standard, if they got a cut the same as their current OTA music store, or perhaps they could live with an iPhone only iTunes OTA store, still as long as they got a cut.
"Oh, and we all need mobile barcoding :). It's possibly my favorite thing in the Japanese mobile market. All it would take is the basic software to support the 3 barcode standards I know about (Japan, South Korea, whatever they're using in European tests) and companies adopting it's use. It is, to say the least, huge in Japan—everything is QR-coded."
Japan's QR Codes: CueCat Strikes Back.
Remember the CueCat? Back in 2000, a dotcom called the Digital Convergence Corporation came up with a barcode scanner for PCs, and talked a number of publications into printing barcodes alongside magazine and newspaper articles and in advertisements. It partnered with Radio Shack to give them away.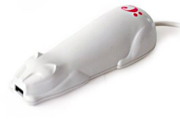 The idea was to create a high tech version of the card mailers that used to fall from the pages of magazines like a heavy rain (remember magazines?). Back in the 90s, we'd pick up these postcards off the floor, circle numbers pertaining to advertisements in the magazine, mail it in, and enjoy a flood of direct mail back.
The CueCat was supposed to bypass the two way mailing part, and instead allow users to simply scan a code and be immediately taken to a web URL. There were a few problems with the plan:
• CueCat was molded in the form of a plastic cat. What were they thinking?
• The company spent over a million in postage alone mailing out CueCats to every Wired and Fortune subscriber.
• It used a proprietary, non-standard bar code, so nothing else could be compatible with it.
• It incorporated a serial number, allowing the company to record every barcode a user ever scanned.
• It was tethered to a PC, making it clumsy to even try to use unless you only sat at a PC.
It ended up that nobody wanted a big plastic cat dangling off their keyboard, ready to fire up some odd spyware and track every ad that might pique their interest. I ended up with a collection of skinned CueCats that served as decorative USB-powered lights around my PC.
The CueCat company's spyware business model came crashing down after a high profile website security breech exposed its customer data, prompting the company to send out apologetic gift certificates to its retail partner, Radio Shack. Joel Spolsky of Fog Creek Software famously skewered the CueCat and its dotcom company.
[Wasting Money on Cats – Joel on Software]
Big in Japan.
While CueCat was a flop in the US for good reason, the principle behind consumer barcodes is quite obviously a good idea. It's taken off in Japan by way of the mobile phone, which has no problem capturing barcodes using its camera.
As Keller described earlier, "Everything from business cards to advertising are barcoded in Japan. The software analyses the QR code, and puts it the right area—business card data becomes a new contact, products trigger either a bookmark or optionally loads the correct website and offers to buy it for you using your linked-to-phone bank account or credit card. Scan, click to load product page, click to buy. Receipt is emailed to you, product is shipped. Barcodes are being expanded in Europe as well."
[QR Code – Wikipedia]


Barcode scanning has floated to the top of my iPhone feature request list, alongside:
• Audio capture.
• Video recording.
• Bluetooth support for headphones, car integration, and contact beaming.
• Video output to TV like the iPod.
What do you think? I really like to hear from readers. Comment in the Forum or email me with your ideas.
Like reading RoughlyDrafted? Share articles with your friends, link from your blog, and subscribe to my podcast! Submit to Reddit or Slashdot, or consider making a small donation supporting this site. Thanks!
Technorati Tags: Apple, Bloggers, Development, iPhone, Software