Readers Write: the iPhone in Japan, Australia, and Universal 3G
July 7th, 2007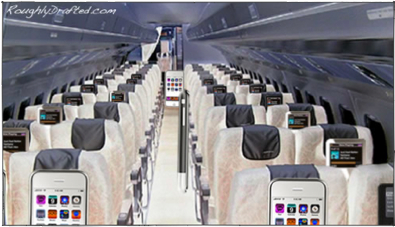 Daniel Eran Dilger
Continuing on reader comments from on the article "International iPhone: Europe, Japan and 3G UMTS" are notes about the Japanese and Australian markets, and why Verizon Wireless and Sprint may have more to worry about than they originally feared.

[International iPhone: Europe, Japan and 3G UMTS]
[Readers Write: iPhone Unlocking, T-Mobile, Europe and UMTS]
[Readers Write: the iPhone in Asia, iTunes OTA, and a CueCat?]
A GSM iPhone in Japan?
I had earlier indicated that the existing iPhone wouldn't work in Japan because the country doesn't have GSM service. But as Will Farnham writes, "While it's true that neither AU by KDDI or NTT's DoCoMo are GSM networks, Softbank (formerly Vodafone Japan, and J-Phone before that) uses GSM.
"My current phone is a 3G Samsung-designed Vodafone 804ss, and when I was in the UK it hopped onto their network just fine, and used Cingular 2G and T-Mobile 3G towers back home when I visited. So, it is possible that the iPhone could have an existing carrier in Japan.
"Tangentially, when the iPhone was announced, even people who know nothing about the technological differences between networks here speculated, 'it's going to be a Softbank exclusive.'"
[Samsung Z540 – User opinions and reviews – GSMarena]
[Update: Keller reports, "One note on Softbank—even they don't use a GSM network like one of your readers said. They just have phones with tri-band GSM+2100MHz UMTS which is why his Softbank mobile worked on a GSM network. Likewise the 905 series of NTT DoCoMo mobiles out this fall will be adding GSM for overseas roaming. I'm afraid you remain stuck with either UMTS or CDMA2000 for Japan itself, and South Korea, who lack GSM as well."
Will Glozer provided two links on Japan's GSM coverage and an analyst's look at Softbank, formerly J-Phone:
[GSM Roaming – Japan]
[Unstrung – Handhelds – J-Phone's Limited Appeal – Wireless News Analysis] ]
Softbank and the iPhone.
Farnham added, "Since rebranding as Softbank, the network has made a concerted effort to push small, stylish phones with decent industrial designs, but generally fewer features than their competitors' phones, something uncommon here, where the name of the game is generally 'I don't care how big it is since it just goes in my man purse anyhow so give me more features than you thought humanly possible.' They seem to be having pretty reasonable success selling phones that look great, I bet they'd do even better with one that works great.
"The iPhone might be a game-changer here, too, if Apple wants to do the same sort of deal that they've worked AT&T, because here the way that mobile carriers make their money is by selling data. While SMS exists here, it's not exactly common, and most, if not nearly all, texting is done via push email.
"I actually was unaware that having email 'pushed' to your phone was a big deal until the iPhone hype – you can't get a phone here without it. Your contract signs you up not for a number of minutes of talk time, but for a certain rate at which you're billed for calls, emails and data, and then you're simply billed at that rate for however much data you're using or time you're talking. It's possible to get unlimited data plans here, but if they wanted to do that with the iPhone, it would certainly change some mindsets about how phones are billed here."
Japan's REALLY Smart Phones.
Keller writes, "Japan is much more complicated then just needing 3G. Besides UMTS, of course, phones are required to do a number of hardware and software features that are generally not yet used in less advanced mobile markets. The primary ones are:
• QR reader: Everything from business cards to advertising are barcoded in Japan. The software analyses the QR code, and puts it the right area—business card data becomes a new contact, products trigger either a bookmark or optionally loads the correct website and offers to buy it for you using your linked-to-phone bank account or credit card. Scan, click to load product page, click to buy. Receipt is emailed to you, product is shipped. Barcodes are being expanded in Europe as well.
• One-Seg TV: Requires a dedicated chip which Apple wouldn't like, but is very popular and one of the main features people look for when buying a new phone.
• E-Cash via near-field-contact chip: a mix of hardware and software allowing you to place your phone on a reader, thumbprint your identity, and buy stuff. The chip is tiny, the software is pretty easy. Very popular, and NTT DoCoMo is aggressively pushing it. It's undergoing test runs in the USA and Europe and NTT DoCoMo has signed on a lot of telecoms onto their standard which means we may, for once, get a worldwide standard.
• GPS: Not required but a pretty obvious and popular inclusion as location services are expanding in Japan.
• Better screen: by the time the iPhone makes it Japan screens such as the current 800×480 top-end will be more common, as will OLED screens.
• Removable memory and battery: It's not just used for storage, but also for swapping photos and other data. The battery of course will be used less for voice and more for other features, so a removable one may not be required but it seems likely.
"Regardless, Apple will have to be aggressive on the software and hardware front to hit 10 million units."
I'd never heard of mobile barcoding, but suddenly I feel like I need it. Does the iPhone need anything apart from some Delicious Library-like camera software in order to support this kind of feature? A CueCat in your pocket!
The Australian iPhone.
Danu Poyner writes, "Would be interested to hear your comments about the Australian market – we always get forgotten about, all tucked away down here.
"We use GSM here, though 3G is starting to take off. Telstra is the recently privatized 'national' carrier, though they are regularly in hot water over anti-competitive practices. They share a 3G network with Hutchinson's 3 Mobile, and number two telco Optus share a less established 3G network with Vodafone.
"Our mobile plans are fairly mixed – the usual arrangement is a subsidized handset locked into a contract, but a lot of people use unlocked handsets on month-to-month plans as well. My knowledge of the situation is only as a consumer and observer (albeit an enthusiastic one) so I don't know much about the technicalities of it all, but if you do it would be great to hear about it.
"We're a significant market! We're outselling Japan these days, we have our own iTunes store and retail stores coming this year and we have one of the highest iPod market shares in the world."
The Universal 3G iPhone.
Initial reports have stated that 3 will indeed be the iPhone's carrier down under, which would require a UMTS iPhone. Apple hasn't commented directly on the Australian market, but a 3G iPhone would make sense for all of Asia, Oceania, and Europe, as they all seem to use the same network band.
Whether 2008 will deliver a unique UMTS American version tuned to AT&T's UTMS band, or whether the iPhone will get dual-band UMTS enabling worldwide roaming remains to be seen.
A lot depends upon what chips Apple can source, how advanced power management becomes over the next year, making 3G chips more practical, and how well Apple can partner with the territorial phone companies.
A Recycled iPhone Market.
It may very well be the case that Apple rolls out a bog standard GSM and EDGE phone to Europe and perhaps even Japan initially, then launches an international 3G version next year. Anyone who needs 3G could then upgrade, and resell their existing model to the millions of users worldwide happy with a more limited data plan.
The other option of course is to reuse the existing iPhone as a handheld WiFi organizer and iPod. Given the much higher than average resale value of iPods, the iPhone should similarly retain value longer than any comparable phone, particularly since most mobiles are worthless without a data plan.
The efforts to figure out how to use the iPhone as a WiFi-enabled iPod make it clear that there is a resale market for recycled iPhones. That should end up making the iPhone the most recycled and reused mobile–and perhaps consumer gadget–ever. It's worth more second hand than other devices are new.
A two phased rollout would also enable Apple to sell two waves of iPhones, something that should cause panic among service providers trying to compete with the iPhone. In 2008, Sprint and Verizon will not only be competing against a new iPhone, but also against a flood of very desirable second hand GSM phones that can only work on AT&T's network.
That threat should kick the iPhone woe and panic machine to ever more dizzying heights!
[Unraveling Anti-Apple Panic: the iPhone Launch Success]
[Unraveling Anti-Apple Panic: iPhone Activation Privacy Scare]
[ZDNet's Mary Jo Foley Says Apple's iPhone Needs ActiveSync]
[Apple: iPhone Now Costs Less than Ballmer's Lame Motorola Q]
[David Sessions Tries to Milk iPhone Battery Panic in Slate]
[Mobile Disruption: Apple's iPhone and Third Party Software]
[More Absurd iPhone Myths: Third Party Software Panic]
[More Absurd iPhone Myths: iSuppli, Subsidies, and Pricing]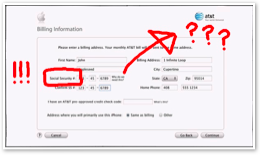 What do you think? I really like to hear from readers. Comment in the Forum or email me with your ideas.
Like reading RoughlyDrafted? Share articles with your friends, link from your blog, and subscribe to my podcast! Submit to Reddit or Slashdot, or consider making a small donation supporting this site. Thanks!