Unraveling Anti-Apple Panic: the iPhone Launch Success
July 6th, 2007

Daniel Eran Dilger
Apple captured international attention at the launch of the iPhone, despite only being available to consumers in the US. In January, Steve Jobs set the goal of selling 10 million iPhones by the end of 2008. Various analysts warned the the unit's higher up-front price and requirement to use AT&T service would raise significant barriers.

However, Things turned out better for the iPhone launch than leading analysts had anticipated. Reader Payman Abolfathi forwarded a link on iPhone expectations by leading analysts from the Mercury News article, "Reports: iPhone sales exceed estimates." MacDailyNews links to the article, and does not require login.
[Goldman Sachs analyst pegs Apple iPhone sales at up to 700,000 units in first weekend – MacDailyNews]
iPhone Beats Estimates by 200-500%.
"Shoppers may have bought as many as 700,000 units over the weekend, Goldman Sachs Inc. analyst David Bailey said, twice his projection of 350,000. Piper Jaffray's Gene Munster pegged sales at a bout 500,000, more than twice his original 200,000 estimate.
"More than a third of Apple's 164 stores were out of stock by Sunday night, according to the company's Web site, leaving shoppers in states such as Hawaii, Nevada and Utah to try AT&T Inc. stores. AT&T, the exclusive provider of wireless service for the iPhone, said most of its 1,800 stores sold out within 24 hours.
"This is a very successfully handled launch," Munster, based in East Palo Alto, said in an interview today. "The real sign of success would be what kind of legs this product has in 2008 and 2009. In 2009, we estimate a third of Apple's sales will be from iPhone. This is a huge product."
Some estimates had been even less optimistic. Bloomberg's Connie Guglielmo originally estimated sales of "150,000 iPhones on June 29 and June 30, the last two days of Apple's third quarter."
She also noted "Apple may sell as many as 200,000 iPhones in the product's first two days on the market this week and as many as 3 million in the second half of the year, according to the most optimistic analyst estimates."
Where The Street Has No Shame.
If analysts were only saying that between 150,000 – 350,000 iPhones would sell at launch, and are now estimating sales of 500,000 to 750,000, how is it that Scott Moritz of TheStreet.com could publish an article entitled "iPhone Misses Sales Mark"?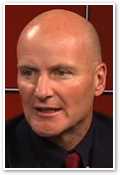 "iPhone missed a 1 million unit sales target and rivals are rejoicing," Moritz announced. "The sales goal — or so-called whisper number — both internally at Apple and on Wall Street was a nice round 1 million phones."
Where did Moritz get his whispered idea that the iPhone needed to sell "a nice round million" in order to meet expectations? From IAG Research pundit and regular iPhone basher Roger Entner.
"There's a lot of rejoicing at Sprint, Verizon and T-Mobile," Entner repeated from Moritz's supplied soap box. "By not selling out, it is still a solid success, but it also proved that not everyone in the country is willing to drop $600 on a new phone. […] For the other carriers, it's not a game changer. It's business as usual again."
Moritz Plays the Rube.
Who was Entner paraphrasing with his million iPhone sell-out sound-bite? It appears he was simply using Moritz and the Street like a ventriloquist's dummy to perpetuate a fabrication. There were two problems with Entner's story, however. The first was logical fallacy.
Moritz's indicated in the same article that around half of the 500,000-750,000 new iPhone buyers activating with AT&T were claimed from rival service providers. How could Sprint, T-Mobile, and Verizon lose hundreds of thousands of their top smartphone users–subscribers to their most expensive service plans–within 48 hours and describe that as "business as usual" and a "reason to rejoice"?
Further, how was it that the iPhone "failed to sell out" when it actually did sell out of most of the 2000 stores carrying it that same weekend?
Entner Found Guilty By Googling.
The second problem with Entner's story is that he apparently fails to realize that the world is searchable by Google. His own blog revealed a variety of backhandedly contemptuous remarks about the iPhone, made in advance of knowing anything about it.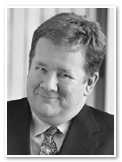 But what's really interesting was revealed by the Macalope, who compared Entner to Rob Enderle for his breadcrumb trail of anti-iPhone remarks in a variety of newspapers.
• "It's a product of mythical proportions"
• "It's impossible to live up to these expectations"
• "It can't download songs over the air"
By "can't download songs over the air," Entner means that it can't subscribe to the DRM-encrusted exploding media rentals sold by Verizon, who he can't seem to praise enough. It can, of course, download and play MP3s and movies from the web, users just don't have to pay anything extra for that pleasure.
Why is USA Today and the Washington Post quoting an Enderlesque citation whore with an axe to grind against both Apple and AT&T? I blame the journalism schools.
[Rob Enderle, please call your office – The Macalope]
What do you think? I really like to hear from readers. Comment in the Forum or email me with your ideas.
Like reading RoughlyDrafted? Share articles with your friends, link from your blog, and subscribe to my podcast! Submit to Reddit or Slashdot, or consider making a small donation supporting this site. Thanks!