International iPhone: Europe, Japan and 3G UMTS
July 6th, 2007

Daniel Eran Dilger
Apple introduced the iPhone exclusively in the US. Here's a look at what's involved in getting the iPhone to work in other markets now, and challenges Apple will face in the mobile market internationally.

Carrier and Regional Compatibility Barriers.
No matter what level of unlocking is ever accomplished on the iPhone, it will simply never work on Sprint or Verizon's CDMA2000 network, because it lacks the radio hardware to do so. Since Apple has signed an exclusive contract with AT&T until 2012, this situation won't change in upcoming models of the iPhone either.
New models of the iPhone will likely be needed for international markets. Because 3G service is widely available in Europe and Japan, it appears that a 3G iPhone would be needed to compete in those markets. That doesn't mean that those 3G iPhones will work in the US however.
"A Brief History of Mobiles" offered more background on 3G networks and how they are being built out in the US. "Unlocking the iPhone" provides more information on GSM networks and how the iPhone SIM works.
[Unlocking the iPhone: The GSM SIM and Activation]
[How AT&T Picked Up the iPhone: A Brief History of Mobiles]
Europe: Because 3G UMTS service is far more common in Europe, it appears that an iPhone marketed to that region would need to support UMTS service.
Even so, the highly-touted LG Prada phone–which was marketed exclusively to Europe earlier this year–does not. The LG Prada is EDGE only, and even lacks WiFi, so it has no fast network support at all.
[Apple iPhone vs LG Prada KE850]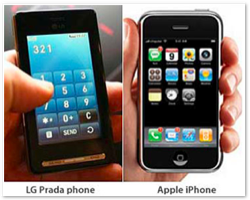 Another complication is that the radio bands used for European UMTS do not match those used in the US, so a European UMTS iPhone won't work in the US unless it is built with radio support for both standards.
Most of the fancy Sony Ericsson 3G phones sold in Europe only work in Europe. Motorola's RAZR V3xx is sold in different versions worldwide to match each market's radio bands.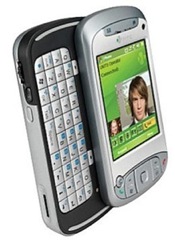 The minority of phones that do try to support a variety of standards worldwide are not only big and bulky, but also quite expensive. A good example is HTC's TyTN, which is used by Windows Mobile Enthusiasts to point out features the iPhone is supposedly lacking, including 3G support and a physical keyboard.
However, it lists for $800 unlocked, it's large and boxy, and has such poor battery life that a market has erupted for a program that forces the phone into using EDGE only instead of 3G networks, just to give it a usable running time.
[Inside the iPhone: EDGE, EVDO, HSUPA, 3G, and WiFi]
[Readers Write About iPhone, 3G Wireless Networks]
[Phone Wars: iPhone vs TyTN, Treo, Pearl, E62, P990, Q]
The iPhone in Europe: T-Mobile?
Initial reports on the iPhone in Europe have been conflicting and at times seemingly non-sensical. The Financial Times reported that Apple would limit its initial rollout to the UK, France, and Germany, then suggested Apple would pick a different carrier for each region.
It was initially reported that T-Mobile was chosen be Apple's exclusive partner Europe. The German T-Mobile is the third largest carrier serving Europe, behind the Spanish Telefonica and English Vodafone.
Without counting its American operations, T-Mobile has roughly as many subscribers in Europe as AT&T does in the US, around 70 million. Like AT&T, T-Mobile is also an offshoot of what had been the German phone company monopoly, Deutsche Telecom.
While T-Mobile's operations in the US are struggling to provide basic 2G GSM service because of the limited radio spectrum available to it, T-Mobile in Europe has been operating a 3G UMTS network for years, and has already migrated much of its service area to the even faster 3G HSDPA service.
That suggests that any iPhone sold by T-Mobile in Europe would minimally offer UMTS and possibly even HSDPA service. Various details complicate matters however.
O2, UK?
After local German papers reported the T-Mobile deal, The Financial Times reported a deal between Apple and O2, the largest carrier by subscribers in the UK. Deutsche Telekom recently tried to buy O2 but lost out to Telefonica in a deal that made the Spanish company Europe's largest carrier. T-Mobile and O2 compete in the UK.
It might seem more likely that Apple would choose just one carrier for the iPhone in Europe, but neither O2 nor T-Mobile offer service in France, meaning neither potential partner serves the three largest markets identified by the Financial Times.
Considering that some countries–particularly Belgium–prohibit phones from being sold with a locked carrier, a plan to sell the iPhone exclusively to those three markets makes sense, because none of them have made locked phones illegal.
Reader Solipsism noted that Apple could tie iPhone activation into iTunes' regional stores, linking activation to a specific carrier's territory. Of the 22 regional iTunes Stores Apple operates internationally, 17 are in Europe.
Regardless of who Apple partners with on the European iPhone later this year, American iPhone users shouldn't have any problem roaming in Europe because the US iPhone handles quad band GSM. That gives it full access to the GSM service offered in Europe.
[Unlocking the iPhone: The GSM SIM and Activation – RoughlyDrafted Forums]
Japan can't use the existing iPhone because the country does not have GSM service at all. Mobile carriers there have been split between rival systems much like the US.
Japan has a carrier that supports cdmaOne/CDMA2000 and others that used a unique 2G TDMA network. Both have been largely replaced by 3G networks: CDMA2000 EVDO and W-CDMA UMTS.
W-CDMA: Baby Steps Toward Universal 3G Convergence.
As noted in "A Brief History of Mobiles," Qualcomm's CDMA2000–used by Sprint and Verizon in the US–is not directly related to or compatible with the W-CDMA technology used to deploy the 3G UMTS service associated with GSM mobile networks.
W-CDMA–the W is for wideband–was developed by Japan's NTT DoCoMo for use in its FOMA network. In Japan, providers jumped from the existing, unique 2G TDMA service directly to a UMTS-like 3G service. NTT DoCoMo aggressively rolled out its 3G FOMA service back in in 2001.
NTT DoCoMo submitted its W-CDMA technology to the ITU as the basis for all 3G mobile networks, beating out Qualcomm's CDMA2000. It was then adopted as the air interface for UMTS, the 3G GSM network.
A number of service providers are now abandoning Qualcomm's CDMA2000-EVDO and standardizing on UMTS 3G networks based upon W-CDMA technology, including Australia's Telstra.
UMTS: the Universal Mobile Telecommunications Service.
After NTT DoCoMo pioneered the first large deployment of W-CDMA FOMA service, it later worked to make its 3G service mostly compatible with the UMTS rolled out in Europe and elsewhere. Users can roam between the two networks, but phone features are not 100% compatible between them due to other network differences.
DoCoMo's existing 3G network offers around 380 kbit/sec data service. It's now working to roll out HSDPA, which is comparable in speed to WiFi. HSDPA is a bolt on upgrade for FOMA/UMTS service, and is being rolled out in a number of markets that already provide UMTS.
The US is far behind Japan and Europe in deploying 3G UMTS service, for a number of interrelated reasons:
• population density in the US much lower, making it difficult to cover rural areas.
• larger coverage areas require the installation of more tower upgrades to reach users.
• much of the wider radio spectrum demanded by W-CDMA UMTS is already in use in the US.
• radio spectrum allocations are difficult to obtain and very expensive.
Combined with the laissez-faire economics that hoped the market will figure out things best, the US has been left without enough radio spectrum availability to deploy UMTS using the same frequencies as Japan and Europe.
That means standard 3G phones can't roam on the 3G UMTS service that is being installed by AT&T or T-Mobile, and that even AT&T UMTS phones won't be able to roam on T-Mobile's domestic UMTS network.
US mobile networks are nearly as backward as our conspicuously non-high speed passenger rail networks and our corporate profiteering healthcare networks. Oh the humanity!
A UMTS iPhone?
Given the state of UMTS worldwide, it would therefore be mandatory for Apple to offer a 3G UMTS iPhone in Japan, whereas it is only a possibility in Europe. It would be downright trailblazing in the US.
That also explains why Apple scheduled deployment of the iPhone in Asia for next year. In Europe, while UMTS is more common, an EDGE iPhone may still be delivered. It worked for LG's Prada phone, and the iPhone also has WiFi, giving it the ability to connect faster than typical UMTS speeds when a hotspot is available.
Any urban area with UMTS coverage is very likely to have WiFi service. Walking around San Francisco, I was able to hop on a free WiFi network nearly everywhere I tried, despite the inability of the City to build out its own WiFi network. AT&T also offers commercial WiFi access to its broadband users; more on those issues later.
Apple could still float the same first generation iPhone in Europe, differentiated by its iPod, browser, and sync features instead of offering the state of the art in mobile speed. In any case, while Americans could likely buy an unlocked European UMTS iPhone, it wouldn't work here on AT&T's network unless it was delivered as dual band.

Unlike Europe, the Japanese mobile market is just as locked down as the US market, perhaps more so. That means even if Apple did make a deal to provide 3G UMTS iPhones, the local carriers would not unlock them for foreigners to use at home in the US or Europe. Japan's 3G iPhone wouldn't work with US UMTS service either.
[Phone Wars: iPhone vs TyTN, Treo, Pearl, E62, P990, Q]
Canada: The obvious option for moving the iPhone into Canada is Rogers Wireless, which was formerly associated with AT&T Wireless. Rogers is a GSM provider, but aggressively moving toward UMTS and HSPDA service. It uses the same radio bands as Cingular / AT&T Mobility built out in the US.
A UMTS iPhone for the Canadian market would also work in the US. Rogers has both leaked and denied having a set deal with Apple to distribute the iPhone.
Opening the iPhone to Install Software or Unlock Features.
Because Apple doesn't provide any access to development tools for iPhone ARM deployment, it will be more difficult for hackers to figure out how the system works.
While the cracking goes on, there are some interesting hardware features that are being revealed that I'll describe in an upcoming article. There are more notes on the international iPhone in the next article.
What do you think? I really like to hear from readers. Comment in the Forum or email me with your ideas.
Like reading RoughlyDrafted? Share articles with your friends, link from your blog, and subscribe to my podcast! Submit to Reddit or Slashdot, or consider making a small donation supporting this site. Thanks!