The iPhone Threat to Adobe, Microsoft, Sun, Real, BREW, Symbian
June 30th, 2007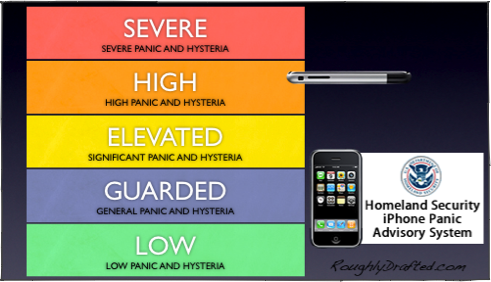 Daniel Eran Dilger
The version of Safari running on Apple's iPhone shows the web without Flash, Windows Media, Real Player, or Java applets. It's not just a case of few plugins gone missing. Here's why Apple chose to cut proprietary content from the web, and what it means for Adobe, Sun, Microsoft, Real, and other mobile makers.
.
Apple's ongoing web strategy seems to have no respect for Adobe's Flash, which is currently in wide use to add animations to web pages. Flash is sometimes even required to view certain poorly-conceived web sites.
Flash is also commonly used to provide a lowest-common denominator for delivering web video. Flash video is encoded using a proprietary codec licensed from On2 and served on the web via a Flash-based controller. Google's YouTube uses Flash in this manner.
Flash Frozen and Filleted.
Apple recently convinced Google to start offering its YouTube videos in an H.264 format that can be accessed by both the iPhone and Apple TV. The obvious reason for moving to H.264 video rather than using Flash is that Flash requires decoding the video on a general purpose CPU using the Flash/On2 software codec.
This codec doesn't exist for Apple's ARM-based iPhone architecture, but more importantly, both the iPhone and Apple TV can decode industry standard H.264 videos using their specialized decoding hardware, requiring less power than a software decoder and leaving the general processor free to do other things.
Excluding Flash is a huge slap in the face of Adobe, which is pushing Flash as the basis of its AIR and Flex web application strategies. Adobe likes to advertise that nearly every PC has a Flash plugin installed. Suddenly, nearly every mobile that has access to the real Internet won't have Flash, making it far less attractive across the board.

There are many open alternatives to Flash, from HTML's canvas tag–which Apple itself submitted to standards organizations and has been adopted by Mozilla in Firefox–to the SVG markup language to standard video codecs.
Despite support for the canvas tag in Safari 2, the iPhone does not support its features that depend upon using the mouse to navigate. That's because the iPhone lacks any concept of a mouse-over or mouse pointer dragging. There's no way to suggest the action of mouse cursor rollover with a finger touch input screen, only click, double-click, click and hold, or two finger clicking.


[Apple TV: Using DVDs and other Video Sources]
[The Web Browser Renaissance: Firefox and Safari]

Dim Prospects for Flash Lite.
In any case, the iPhone is Apple's best shot at killing Flash, and Apple appears happy to be using it as such. The company just recently removed all remains of Flash from its corporate website, implementing everything that had been Flash-based using standards-based Ajax techniques instead.
Apple's move may also help to derail any interest in Flash Lite, which is Adobe's rival mobile platform and the brains behind LG's Prada phone. Flash Lite is a subset version of the Flash player runtime for use in limited power devices. Flash Lite also became a significant part of Verizon Wireless' BREW platform strategy last year.
By pushing alternatives to Flash, Apple gets a shot at knocking out the headlights of Verizon and all of the hardware rivals lined up behind Adobe's Flash Lite, including LG, NTT DoCoMo and Sony Ericsson, all of whom hope to use Flash Lite to provide their Symbian phones with a consistent graphical interface.
The problem is that Flash Lite is only good for doing slideshow style animations. It's not a real developer framework like Cocoa or even Windows Mobile. Comparisons of the iPhone to the LG Prada phone neglected to consider that mobile sophistication involves more than just some pleasant looking hardware.


[Apple iPhone vs LG Prada KE850]
[Origins: Why the iPhone is ARM, and isn't Symbian]
[Readers Write About Symbian, OS X and the iPhone]

The Microsoft of Mobiles?
Were Flash Lite to gain momentum, it might make Adobe the Microsoft of mobiles, and Flash Lite the new Windows. That also makes it obvious why Apple wants to choke Flash to death before it falls into position as the new lowest common denominator in proprietary platforms on a new crop of mobile devices.

Adobe likes the idea of establishing Flash Lite as a banal yet good enough layer of uninspired user interface technology to act as a glue to bond together the fractured Symbian platform. Cutting a deal to stir Flash Lite into the toxic BREW of Verizon also made for a good press release suggesting wide adoption of Flash Lite.
Add in Adobe's AIR/Apollo system for developing "rich Internet applications" that depend upon Flash, and you have the makings of a Windows-wannabe strategy, giddy to send the increasingly open, cross platform web back into a proprietary prison with Adobe, not Microsoft, holding the key.

[Mobile Disruption: Apple's iPhone and Third Party Software]
[More Absurd iPhone Myths: Third Party Software Panic]

This All Happened Before.
If Apple's purposeful omission of Flash on the iPhone is giving you déjà vu, it's probably because Apple did the very same thing to rid the world of Microsoft's domination of the online music, media, and DRM industry.
Three years ago, Apple refused to include support for Windows Media on the iPod. That resulted in the online music market being opened up and pushed toward the vendor agnostic MPEG AAC format.
Microsoft, along with Real Networks, rapidly lost any position of control in the music industry, and both ended up relegated to the web to serve as media streaming formats.
Taking out the Trash.
Having pointed that out, nothing really has to be said to explain why Apple isn't putting Windows Media or Real support on the iPhone, but I'll say it anyway: Apple wants to establish MPEG's similarly vendor agnostic H.264.
Making the H.264 video codec the only format that works on the iPhone will remove any remaining attraction for web developers who might otherwise think they need to license those proprietary formats which don't work well (or at all) on the Mac, the iPod, and Apple TV.
And you thought the iPhone was just Apple's way of muscling into the mobile business! No, it's really a proactive battle against a wide swatch of proprietary platforms promising to plague a new wave of mobile devices.
If the iPhone is a success, it will not only establish Apple as a mobile maker, but also extinguish any hope for proprietary web streaming technologies, proprietary codec use for audio and video distribution, and Adobe's proprietary mobile middleware.

[Sun Tries to Jump on iPhone Bandwagon with jPhone]

Je ne parle pas J2MÉ.
As for Java, while Sun is working diligently to open up its cross platform virtual machine, there was never any reason for Apple to use the J2ME mobile version in the iPhone.
Doing so would only layer Apple's existing Cocoa iPhone platform with a secondary lowest common denominator platform.
That makes J2ME the rough equivalent to X11 on the Unix desktop: a cross platform promise that does too little, too late to be at all attractive to Apple.
In the desktop world, X11 at least offers enough utility to warrant Apple porting an implementation for Mac OS X users. On mobiles, J2ME does not. It's a hog, it offers little in terms of usability, and its cross platform capacity only works in theory. Leaving it off the iPhone could certainly doom the remains of J2ME into obscurity.
All together, this suggests a bloodbath for a wide swath of companies, all hinging upon the adoption of the iPhone. No wonder Apple bet the company on the tiny device, and no wonder why so many people have vested interests in badmouthing it.

[Gone in a Flash: More on Apple's iPhone Web Plans]
[iPhone Gremlins: Crashing, Security, and Network Collapse!]

[AT&T Affiliate Link < Buy a phone here and support RoughlyDrafted]
[Amazon: Mac OS X 10.5 Leopard: Preorder via RoughlyDrafted]