PlayStation 3 vs. Xbox 360 vs. Nintendo Wii
November 22nd, 2006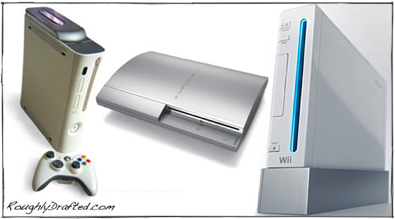 Daniel Eran Dilger
The Sony PlayStation 3 and Nintendo Wii both jumped into the game console ring this weekend to compete against Microsoft's Xbox 360. Who is going to win?

Everyone's watching to see how this battle plays out, because each company is pursuing a very different strategy. Sony and Microsoft are gunning for pure performance systems, while Nintendo is shooting at fun, playable games that rely more on its unique controllers than impressive graphics hardware.
The consoles' prices follow the features and product strategy of each company:
Sony PlayStation 3.
Sony's PS3 is the most expensive at $500-600, because it includes a standard hard drive, a high definition Blu-ray optical drive, HD video output, Bluetooth wireless controllers, and–in the premium version–WiFi wireless networking.
Sony is setting up the PS3 as a PC alternative. The premium model has a memory card reader for not only Sony's own Memory Stick but also–in what must be an incredible first for the company–Compact Flash and SD memory cards, making the PS3 a digital hub for photos; with a USB keyboard and mouse and the included web browser, it can serve as a basic PC.
Sony originally announced plans to ship the PS3 with Linux pre-installed, but currently user installation of "another operating system" is only a boot option. Use of another OS isn't currently supported by Sony, and would of course need to be specially designed to work on the PS3's specialized Cell processor architecture.
The PS3 is also the new HD core of Sony's modern take on the stereo system, offering 5.1 Dolby Digital Surround and true 1080p high definition video playback from prerecorded Blu-ray movies.
Popular PS3 games sell for $50 – $60.
PlayStation 3 (Includes 60GB Hard Drive, Blu-Ray Drive, WiFi)
PlayStation 3 (Includes 80GB Hard Drive, Blu-Ray Drive, WiFi and Motorstorm Pack)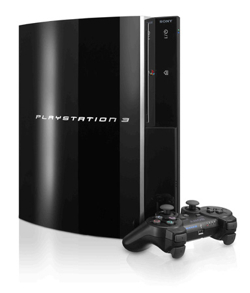 Microsoft Xbox 360.
Introduced last winter, Microsoft's Xbox 360 is $300-450, uses a standard DVD optical drive, and only includes a hard drive and wireless game controller in its premium version. Microsoft recently updated the 360 to provide support for full HD, 1080p video output to match the PS3.
Rather than positioning the Xbox 360 as a standalone PC alternative, Microsoft pairs it with its plans for Windows Media Center, allowing the 360 to be used as a media extender to stream music and movies from a central Media Center PC.
Microsoft has plans to offer HD movie playback both with an optional HD-DVD player in an external box, and over the web through its online Xbox Live video store.
However, the Xbox 360's optional, external HD-DVD player is $180, pushing the 360 up to the same price as the PS3. Further, the $300 core Xbox 360 systems can't use Microsoft's online video store because they don't have the required hard drive to save downloaded movies.
Popular Xbox 360 games sell for $50 – $70.
Xbox 360 Core Console (no Hard Drive)
Xbox 360 Console (Includes 20GB Hard Drive)
Xbox 360 Elite System Console (Includes 120GB Hard Drive)
Xbox 360 Wireless Network Adapter for WiFi ($99)
Xbox 360 External HD-DVD Player ($180)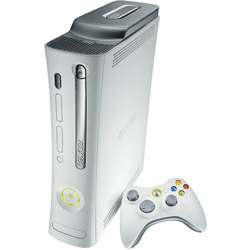 Nintendo Wii.
The Wii is the least expensive of the three at $250, and includes both Bluetooth for wireless controllers and a DVD drive, but will not be able to play DVD movies. It also lacks a hard drive. Instead, the Wii focuses on physically involving games using the wireless Wii Remote paired with the accessory Nunchuk controller (below).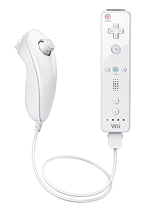 The Wii Remote uses accelerometers to sense how players swing, point, and tilt the controller, encouraging game titles to incorporate activity.
The Wii will also wirelessly connect to Nintendo's DS portable game system, using its microphone and touchscreen as inputs for Wii games.
While the Wii has no movie store, Nintendo has an online store that sells classic games ($5 – 10) for the GameCube, Nintendo 64, and other previous game consoles.
Popular Wii games sell for $30 – $50.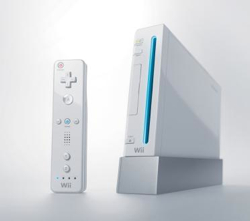 The Last Generation.
So which console is going to assume the lead, or will there be a tie? A half decade ago, many analysts projected a close race between the Sony's PlayStation 2, Microsoft's original Xbox, and Nintendo's GameCube, but their prediction turned out to be wrong: Sony simply blew away the competition with its PS2.
This time around however, a number of factors have changed. For example, while Nintendo's 2001 GameCube was also the cheapest console, its sales were hurt by a game lineup that mainly targeted the youth market rather than teens and adults, something Nintendo has attempted to address.
[The Nintendo Wii has pulled into first place ahead of the Xbox 360, with the Sony PlayStation in third.
Updated Sales Figures: Nintendo Wii vs Sony PlayStation 3 vs Microsoft Xbox 360: Q2 2007]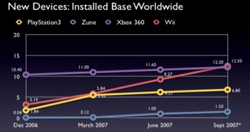 Here's a quick look at the lessons learned in the last generation of consoles, how Microsoft got involved in console gaming, what resulted then, and what factors will determine how things work out this time.
How Microsoft got into Console Gaming.
Microsoft's original Xbox was largely a defensive move by Microsoft against the original Sony PlayStation, which had become so big in the 1990s that it threatened the future of Windows PC gaming.
If Sony were to continue unchecked in games console development, Microsoft feared it may lose significant PC sales supported by gaming.
While the number of PCs used primarily for gaming are a small segment of the huge overall PC industry, they represent a very valuable segment: they are higher end, higher margin machines paired with non-portable software applications:
PC Gaming is Microsoft's Macintosh.
Games are a killer app for Windows. As described in The Apple Video Game Development Myth, Microsoft worked to tie Windows PC games to its proprietary DirectX software, to help to make PC gaming immune from encroachment by competing PC platforms such as Linux.
Microsoft plotted to use DirectX against Sony's PlayStation 2, but failed in its attempts to port DirectX to run on WinCE for the rival Sega Dreamcast. Microsoft started over with its own console plans to take on the PS2 directly, an effort initially called the DirectXbox.
The Apple Video Game Development Myth
DirectXbox – Computer Power User
Xbox Arrives.
Microsoft was prepared to to lose some serious money in presenting a challenge to Sony's PlayStation 2. A year after the PS2 came out, Microsoft delivered its new console: the Xbox. Its marketing avoided mention of Windows and made little use of the Microsoft name.
The Xbox leveraged Microsoft's existing PC development efforts; it was essentially a scaled down Celeron PC running a specialized version of Windows 2000, focused on graphic gaming features; conversely, it was also the first gaming console to include a common PC hard drive as standard hardware.
The high manufacturing costs of the Xbox, combined with Microsoft's inexperience in selling hardware, resulted in a botched rollout and hardware problems that dogged the product. Further, at its release it was already a year behind Sony's PS2.
A Monster Year for Game Consoles – BusinessWeek
Console Death Match.
Sony's PS2 had been available in Japan throughout 2000, but only went on sale worldwide in the winter; it did not have many great games available from the start.
By the time the Xbox and GameCube arrived in the winter of 2001 however, the PS2 had sold over 20 million units and a number of hot PS2 games had arrived, making it the console to have.
The PS2 was able to maintain a clear lead, having sold 115 million units between 2000 and 2006 (blue in the pie chart below), compared to only 24 million for the Xbox (green), and 21 million for the failed GameCube (purple).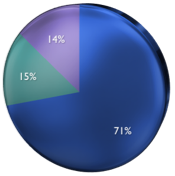 This All Looks Familiar.
The game console market share pie chart looks similar to the smartphone pie chart owned by Symbian and the MP3 player pie chart dominated by Apple's iPod; Microsoft spends a lot for its small slice of each.
Actually, this entire series of events is strikingly similar to Microsoft's more recent recent attempts to take on Apple's iPod using Janus DRM and PlaysForSure partnerships.
After initially failing, Microsoft again abandoned its partners and worked to build its own rival hardware with the Zune, which is also entering the market a year after Apple's movie playing 5th generation iPod has already sold into the millions and established a market.
The Secret Failures of Microsoft
The Next Generation Game Consoles.
Microsoft might not learn from its mistakes, but the rest of us can. So what's different this time around? There are four primary factors that will determine the winner in the new generation of game consoles, described in the following article:
The Next Generation Game Consoles.
Next Articles:
Blu-ray vs HD-DVD in Next Generation Game Consoles
Origins of the Blu-ray vs HD-DVD War
Nintendo Wii vs Sony PlayStation 3 vs Microsoft Xbox 360: Q2 2007
iPod vs Zune: A Buyer's Guide
Hacking iPod Games: How Apple's DRM Works
Five Ways Apple Will Change TV: 4
Apple's New Dual Processor Game Console